If you are a baseball fan, chances are you are familiar with the famous Monument Park of the MLB super-franchise, the New York Yankees. Located in the back end of the stadium and serving as the batter's eye, Monument Park features the retired numbers of some of the Yankees' most famous and historic players as well as other pieces immortalizing managers, owners, and other important figures. What you might be shocked to find out, though, is that 
U.S. Bronze Sign Company
created the bronze plaques of Yankee Stadium's Monument Park
. Utilizing our reputation for superior quality, we were honored to create the plaques of some of the greatest players Major League Baseball has ever seen.
The History of New York Yankees' Monument Park
The earliest inception of Monument Park was the bronze plaque memorial dedicated to late manager Miller Huggins. When Huggins suddenly died in 1927, the Yankees dedicated a bronze plaque to him which was set into a block of red granite and placed in front of the flag pole (during this era, both the granite block and the flagpole were actually in play in center field!). When Lou Gehrig and Babe Ruth died, there were two additional granite blocks and plaques added to either side of Huggins' plaque. Plaques were also placed behind the granite blocks, but these started to become a problem as batted balls sometimes made their way between the stones, making it an issue of fair play.
Upon the stadium redesign in 1975, Monument Park was moved out of play behind centerfield and in between each teams' bullpen. The move caused the playing field to be reduced in center field from 500 feet to 410 feet. Monument Park was actually closed off to the public up until 1985. Monument Park saw another change when the Yankees moved to their new stadium in 2010. Upon the completion of the new Yankees Stadium, Monument Park was relocated behind a fence under the Mohegan Sun Sports Bar in center field. The new Monument Park (referred to as Monument Park II) now displays the retired numbers of 22 Yankees players and commemorates 37 members of the Yankees organization. Other honorees contained in this section of the stadium include the several popes who visited the stadium Pope Paul IV, Pope John Paul II and Pope Benedict XVI, the victims and rescue workers of the September 11th attacks on New York City as well as in honor of Nelson Mandela upon his death.
The Bronze Plaques of Monument Park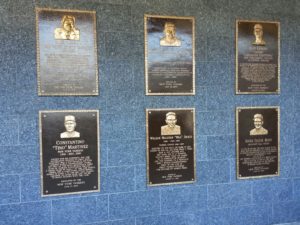 Since the first plaque in Yankee Stadium was dedicated to Miller Huggins, US Bronze has been creating the bronze plaques and other monuments that have resided in every incarnation of Monument Park. As one of the most storied and respected franchises in Major League Baseball, the New York Yankees expected nothing but the best quality bronze plaques to commemorate the former greats of their team. As such, we had our experienced artists, designers and forgers pay particular attention to capture each and every detail to make sure these timeless pieces would stand the test of time.
Each honorary plaque contained in Monument Park measures 6 square feet and is 36" high x 24" wide. Forged from bronze, each plaque weighs approximately 120 lbs. These plaques show the faces of those being honored as well as a short paragraph chosen by the organization. The plaques of those whose numbers have been retired display that Yankees logo with a paragraph is a bit smaller. These Stainless Steel plaques with stakes are 24" high x 20" wide and are about 25 lbs each.  The retired numbers themselves are made from Steel and measure 28" diameter and weigh around 15 pounds.
One of the most impressive pieces of Yankees history we were fortunate to be able to help create was the commemorative statues of the late Yankees owner, George Steinbrenner III. After passing away from a heart attack in July of 2010, the Yankees commissioned a life-sized statue of "The Boss" to immortalize the owner who was present during 7 World Series victories as well as 11 American League titles. The statue of Mr. Steinbrenner measures 6 feet tall and displays life-like detail including the 2009 World Series ring on his left hand; the last World Series the Yankees won before Steinbrenner's death. This statue of George Steinbrenner III is not actually in Monument Park but instead, is displayed inside Yankee Stadium at Gate #2 and in front of the Yankees spring training facility in Tampa near their version of Monument Park.
Premium Quality Bronze Plaques for All Our Customers
We are honored to continually be the source of the New York Yankees for the plaques that are displayed in Monument Park. Like the Yankees practice and play to show perfection on the baseball field, we work every day to provide our customers with premium quality customized bronze plaques. With our 90 years in the industry, we know what it means to give our all to the quality of work we provide.
When you call US Bronze Sign Company, we'll work with you to find out precisely what you are looking for in your metal project. We'll make sure we completely understand all the details you would like included in your final product before we push the work through to our forge. Throughout the process, we keep you informed on the status of your plaque to ensure everything is to your liking. We've worked with a wide range of customers, from huge organizations like the New York Yankees and other sports franchises, huge Fortune 500 companies, to individuals and mom and pop shops, no project is too big or too small for us. And you can be sure, no matter the scope or size of the project that we'll fully impress you with the final plaque you receive.
Give us a call today at (800)-872-5155 or fill out our contact form today to let us know the project you have in mind. We're excited to hear from you and help you with whatever you have in mind.